As told in the previous post, I am now in a savings crunch! Given the option of eating out with the girls at work nearly every day OR saving money to be able to have a baby - I pick BABY! So, that means eating the cheapest things possible.
I am trying to keep my lunches under $2. TWO DOLLARS!? Think it's impossible, do you? Well, my friend, I have found the solution - - - -L U N C H A B L E S ! !
Lunch (at work) Grocery list:
Lunchables $1.00
Great Value "Dr. Thunder" (Who, I might add, is no comparison to the REAL Dr.) $1.25 for 6-pack.
I would like to note that I ate this lunch for THREE WEEKS STRAIGHT! I can no longer look at Lunchables without the urge to...well, lose my lunch. And I can't even look at crackers without flashbacks of the last three weeks!! And what about Dr. Pepper, you ask? Well, when I taste Dr. Pepper it reminds me how I hate Dr. Thunder which brings back memories of Lunchables......and you know where that leads.
So, for the last week or so, I have been enjoying (that's stretching it) canned foods. Yep, canned. Luckily, the cooler weather has allowed for soup lovers everywhere to start bringing soup and crackers to lunch! And most soup is UNDER A DOLLAR! WOOHOO!!

While I was meandering down the soup aisle the other day, I happened upon Chef Boyardee! I haven't had any of that since I was a kid!! But wait......It was over a dollar. Nope.
Continuing on down the isle, I noticed one of the little tin cans glistening at me. It was as if it were winking at me and saying, "Hey, look at me. I'm cheap, yet still have somewhat the same flavor as the Chef. Give me a try."
I tried to turn my cart around, but there was an older lady in one of those little scooters with the basket and she was taking up half of the isle trying to decide to get traditional cut or french cut green beans and she couldn't decide, so she got her husband, Frank, to pick them both up and decide which cut of beans were bigger because she likes bigger beans and she couldn't hear me very well when I said "Excuse me, ma'am," and I kept waiting and waiting and waiting and the can was winking at me and I was trying to squeeze past her basket, but then my jacket button got snagged on her scooter's basket and I was panicking trying to undo it before she pushed the "full steam ahead" button on the scooter because I didn't want to be dragged down the next isle by the scooter lady and her green bean-loving husband, Frank!!! (Gosh, the was the world's longest sentence. Rachel, it will be okay.)
Needless to say, she and Frank spent a lot of time down the canned food isle trying to decide which cut to buy, so I was given ample time to detach myself from her scooter just in time to pick up a can of Great Value mini ravioli as well as various other Great Value canned items.
So, that's my lunch-life. I sit at lunch eating my Great Value canned items while watching all the cool kids with their bagged lunches from the great world of fast food.
One thing I look forward to is being able to use this whole eating-for-less-than-two-dollars kick when I actually do get the prize at the end of this game. "Do you know what I did just so you could be on this planet?" I will say, "I ate Lunchables for a year! A year!"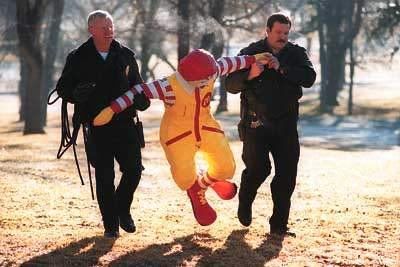 Just Say NO To Fast Food